There is always something going on at Octane5!
Check out the latest or follow us on LinkedIn to stay in the loop
Supply Chain and your Brand Protection Program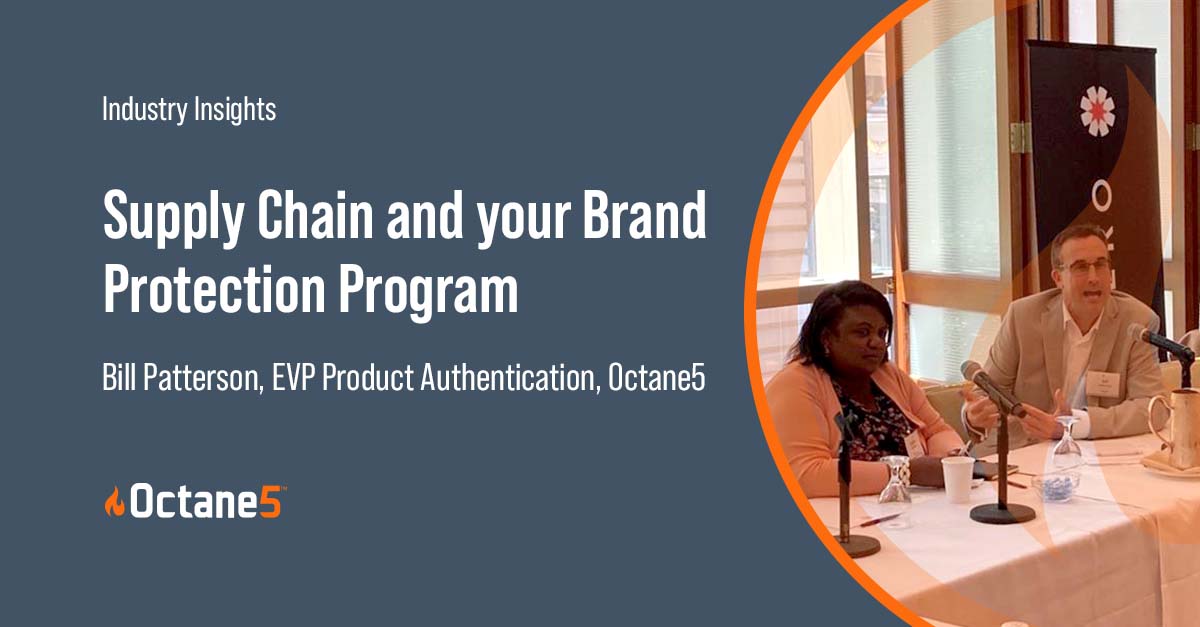 Most people familiar with the term ?brand protection? come to think of it as ?counterfeiting.? Whether it?s on the retail shelf or an online platform, global companies collectively spend millions of dollars annually to ensure that unauthorized finished products do not make into the hands of the end-consumer. Alternatively, professionals in the field understand that brand protection is an issue throughout the supply chain and requires as much diligence than the finished product. 
Such was the case on Tuesday, July 19th in New York City when nearly 50 brand and intellectual property professionals gathered at the Harvard Club to participate in Consero?s Brand Protection & Anti-Counterfeiting Executive Roundtable. I was honored to lead a discussion on ?Overcoming Supply Chain Issues with a Strong Brand Protection Program? with Chief Legal Counsel of SPARC Group, Colette Stanford who represents many known brands such as Aeropostale, Nautica, Lucky, Forever 21 and Brooks Brothers. 
Although the format was a ?fireside chat,? a lively discussion throughout the room touched on multiple brand protection issues. For example, raw material sourcing, such as cotton, is as vulnerable to unauthorized infiltration as the finished product itself. SPARC, as described by Colette, is highly concerned with the source of the cotton in its products. Through audits of it factories, SPARC wants to prevent the use of cotton from areas of insurrection, produced by oppressed people as highlighted by the Uyghur labor controversies, or mislabeled as organic when it really cannot certify that designation. 
However, the finished product continues to be of concern for brand protection professionals. Counterfeiting is often a financial means to support terrorism, money-laundering, human trafficking and organized crime. The entire supply chain requires diligence and attention to be sure the product is as represented. 
But does anyone really care as long as they get the product they want? YES! We are in an unprecedented time where consumers, more than ever, are demanding the manufacturers of their favorite products to exhibit corporate social responsibility. It doesn?t matter if you?re a Boomer, Gen X, Millennial or Gen Zer? you want your products to be a representation of your values. 
At Octane5, we have the means and ability to assist global brands maintain compliance along the entire supply chain. BrandComplyTM starts at the beginning with defining and protecting the contract rights with your licensees or contract manufacturers worldwide. BrandComplyTM Audit puts tools into factories that provide brand owners vision into raw material sourcing, storage, and labor practices. VerityTM, powered by Crane Authentication's patented micro-optic technology, allows quick and definitive differentiation between legitimate products and forgeries. What is micro-optic technology? If you've seen that blue stripe in the US $100 bill, you've seen micro-optic technology. And through the use of barcodes, serial numbers and check digits, you can track and trace those products globally through the BrandComply app. Unparalleled power at your fingertips.
Thank you to all of the companies participating at Consero?s Brand Protection & Anti-Counterfeiting Executive Roundtable. Sharing our thought leadership is what drives us to new innovations on behalf of our partners and clients.